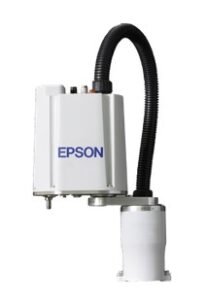 The Epson Robot G1 is a high-precision, compact SCARA robot that is designed for a wide range of industrial automation applications. The G1 is part of Epson's G-Series line of robots, which are known for their advanced motion control, speed, and accuracy.
The Epson Robot G1 has a maximum payload capacity of 1kg, a reach of 200mm, and a repeatability of +/- 0.01mm. The G1 is equipped with a high-speed EtherCAT interface that enables it to communicate with other devices and sensors in real-time, making it an ideal solution for high-speed and high-precision applications.
One of the key features of the Epson Robot G1 is its compact design. The G1 has a compact footprint, which makes it easy to integrate into existing production lines and workspaces. This is especially important for applications where space is limited or where multiple robots need to be used in a small area.
The Epson Robot G1 is designed for easy programming and operation. It comes with Epson's proprietary RC+ development software, which enables users to easily create and modify robot programs. The software includes a library of pre-built functions and commands, which can be used to simplify programming and reduce development time.
The G1 is also equipped with Epson's Smart Motion Control technology, which enables it to perform complex motions and tasks with speed and accuracy. Smart Motion Control combines advanced algorithms, servo control, and motion planning to optimize the robot's movements and improve overall performance.
How to Use the Epson Robot G1
To use the Epson Robot G1, users will first need to install and set up the robot in their workspace. This may involve mounting the robot on a stand or bracket and connecting it to power and communication cables.
Once the robot is set up, users can begin programming it using Epson's RC+ software. The software includes a variety of tools and features that enable users to create and modify robot programs, as well as monitor the robot's performance and diagnose any issues.
Users can also configure the robot's settings and parameters, such as speed, acceleration, and payload, to optimize its performance for their specific application. This may involve adjusting the robot's motion profile, tuning the servo control, or configuring the EtherCAT interface.
Once the robot is programmed and configured, users can begin operating it using a variety of input methods, such as a teach pendant, a PC, or a PLC. The robot can be operated in various modes, such as manual, jog, or automatic, depending on the application requirements.
Overall, the Epson Robot G1 is a powerful and versatile industrial automation solution that is designed for a wide range of applications. Its compact design, advanced motion control, and easy programming make it an ideal solution for applications that require high-speed, high-precision movements and tasks.