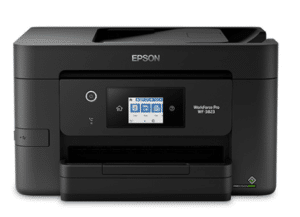 Epson WorkForce Pro WF-3823 – The Epson WorkForce Pro WF-3823 is a multifunction inkjet printer designed for small to medium-sized businesses and home offices. It belongs to the WorkForce Pro series, known for its high-quality printing, efficiency, and cost-effectiveness. In this review, we will delve into the key features, performance, and benefits of the Epson WorkForce Pro WF-3823.
Key Features
All-in-One Functionality: The WF-3823 is a versatile all-in-one printer that can print, scan, copy, and fax. This multifunctionality makes it a valuable addition to any office, eliminating the need for multiple devices.
PrecisionCore Technology: Epson's PrecisionCore technology is at the heart of this printer. It uses a high-density print chip that generates up to 40 million precise dots per second, ensuring sharp and professional-quality prints.
Fast Printing Speeds: The WF-3823 can print at speeds of up to 21 pages per minute (ppm) for black and color documents. This rapid printing capability can significantly boost productivity in a busy office environment.
Automatic Document Feeder (ADF): The built-in ADF can hold up to 35 sheets, allowing for efficient scanning and copying of multi-page documents without manual page-by-page loading.
Duplex Printing: Automatic duplex printing is a standard feature on the WF-3823, enabling double-sided printing, which can save on paper costs and reduce environmental impact.
Wireless Connectivity: The printer supports wireless printing through Wi-Fi, making it easy to print from laptops, smartphones, and tablets. It also has Wi-Fi Direct for printing without a network.
Mobile Printing Apps: Epson offers a range of mobile printing apps, such as Epson iPrint and Epson Email Print, which allow users to print remotely and conveniently from their mobile devices.
Large Paper Capacity: With a paper input capacity of up to 250 sheets, the WF-3823 can handle larger print jobs without frequent paper refilling.
High-Yield Ink Cartridges: This printer uses individual high-yield ink cartridges, which can help reduce the cost per page and the frequency of cartridge replacement.
Eco-Friendly Features: Epson has incorporated several eco-friendly features into the WF-3823, including Energy Star certification and RoHS compliance, aimed at reducing energy consumption and environmental impact.
Performance
The performance of the Epson WorkForce Pro WF-3823 is impressive, particularly in its price range. The PrecisionCore technology ensures consistently high-quality prints with sharp text and vibrant colors. The printer's fast printing speeds make it suitable for both text-heavy documents and graphics-intensive materials.
The automatic duplex printing feature is a time and money saver, as it enables effortless double-sided printing. The ADF comes in handy for scanning and copying multiple pages, and the wireless connectivity options provide flexibility in how you can print from various devices.
In terms of durability, the WF-3823 is built to withstand the demands of a busy office. Its monthly duty cycle of up to 30,000 pages ensures that it can handle moderate to heavy workloads without experiencing significant wear and tear.
Advantages
Cost-Efficiency: The use of high-yield ink cartridges and automatic duplex printing helps reduce overall printing costs. Additionally, the WF-3823's Energy Star certification reflects its energy-efficient design, saving on electricity bills over time.
Professional Quality: Whether you're printing marketing materials, presentations, or everyday documents, the WF-3823 consistently delivers professional-quality output with sharp text and vibrant images.
Wireless Convenience: The ability to print wirelessly from various devices, including smartphones and tablets, enhances convenience and productivity, especially in a modern, mobile-centric workplace.
Reliability: Epson's reputation for reliability and durability is evident in the WF-3823. It can handle heavy workloads and is less likely to experience breakdowns or technical issues.
Eco-Friendly: Epson's commitment to environmental sustainability is reflected in the WF-3823's eco-friendly features, such as energy-efficient operation and compliance with environmental regulations.
Limitations
While the Epson WorkForce Pro WF-3823 offers numerous advantages, it's essential to consider some potential limitations:
Size: The WF-3823 may be relatively bulky compared to some other home office printers. Be sure to allocate enough space for it in your office setup.
Price: While it is competitively priced for a business-oriented inkjet printer, it may be on the higher side for some home office users who have lower printing needs.
Ink Replacement Costs: Although it uses high-yield ink cartridges, replacement ink can still be a significant ongoing cost, particularly for color printing.
Lack of Photo Printing: If you require high-quality photo printing, the WF-3823, being a business-centric printer, may not be the best choice. It's optimized for text and graphics.
Conclusion
The Epson WorkForce Pro WF-3823 is a reliable and versatile inkjet printer suitable for small to medium-sized businesses and home offices. Its combination of fast printing speeds, high-quality output, and cost-efficiency make it a compelling choice for those who require professional document printing without breaking the bank.
While it may have a few limitations, such as its size and ink replacement costs, these drawbacks are outweighed by its overall performance and features. The WF-3823's commitment to eco-friendliness and energy efficiency aligns well with modern sustainability concerns, making it a responsible choice for environmentally-conscious users.
Ultimately, the Epson WorkForce Pro WF-3823 is a valuable addition to any office setting, offering a balance of performance, functionality, and cost-effectiveness that can enhance productivity and meet the printing needs of a wide range of users.
Download Driver WorkForce WF-3823
| | | |
| --- | --- | --- |
| Compatible Operating System | Size | Download |
| Windows | | |
| Windows 11, Windows 10 64-bit, Windows 8.1 64-bit, Windows 8 64-bit, Windows 7 64-bit, Windows XP 64-bit, Windows Vista 64-bit | 31 MB | |
| Windows 10 32-bit, Windows 8.1 32-bit, Windows 8 32-bit, Windows 7 32-bit, Windows XP 32-bit, Windows Vista 32-bit | 30 MB | |
| Scanner Driver – Windows 11, Windows 10 32-bit, Windows 8.1 32-bit, Windows 8 32-bit, Windows 7 32-bit, Windows XP 32-bit, Windows Vista 32-bit, Windows 10 32-bit, Windows 8.1 32-bit, Windows 8 32-bit, Windows 7 32-bit, Windows XP 32-bit, Windows Vista 32-bit | 28 MB | |
| Mac OS | | |
| Printer Driver – Mac OS X – PowerPC, Mac OS X – Intel | 67 MB | Download |
| Scanner Driver – Mac OS X – PowerPC, Mac OS X – Intel | 44.07 MB | Download |
How to Install Epson WorkForce WF-3823
Before you begin:
Make sure you have all the necessary components provided with the printer, including the printer itself, power cord, ink cartridges, documentation, and driver/software installation CD or download link.
1: Unpacking and Assembling
Remove the printer and all accessories from the packaging.
Remove any protective materials and stickers from the printer.
Open the scanner unit (cover) to remove any packing materials from inside, such as tape or foam.
Extend the output tray and lift the paper support.
2: Installing Ink Cartridges
Open the scanner unit again to access the ink cartridge holder.
Shake each ink cartridge gently before opening the package.
Take out the cartridges from their packaging.
Remove the yellow tape and any protective seals from each cartridge.
Insert the cartridges into their corresponding color-coded slots. Make sure they click into place.
Close the scanner unit.
3: Power and Initial Setup
Plug the power cord into the printer's power connector and then into a power outlet.
Turn on the printer by pressing the power button.
Follow the on-screen instructions to select your language, country, date, and time settings.
The printer will start charging the ink. This process may take a few minutes.
4: Loading Paper
Slide out the paper cassette from the printer.
Adjust the paper guides to fit your paper size.
Load the paper into the cassette and make sure it is properly aligned.
Slide the paper cassette back into the printer.
5: Connecting to Wi-Fi (Wireless Setup)
Access the printer's control panel by pressing the Home button on the printer.
Use the arrow keys to navigate to "Wi-Fi Setup" and press OK.
Select "Wi-Fi Setup Wizard" and press OK.
Follow the on-screen instructions to select your Wi-Fi network, enter your Wi-Fi password, and connect to the network.
6: Installing Drivers and Software
You can install the necessary drivers and software either from the CD provided with the printer or by downloading them from the Epson support website.
If using the CD, insert it into your computer's CD/DVD drive and follow the on-screen instructions for installation.
If downloading from the Epson website, visit the Epson support page, search for the WF-3823 printer, and download the drivers and software for your operating system.
Follow the installation wizard's prompts to complete the setup.
7: Test Printing
After the drivers and software are installed, you can print a test page to ensure the printer is functioning correctly.
Open a document or image on your computer, and select the Epson WF-3823 printer as the printing device.
Click "Print" and check if the printer successfully prints the document.
8: Additional Settings (Optional)
You can access the printer settings through the printer software on your computer or the printer's control panel to customize various settings, such as print quality, paper type, and more.
Your Epson WorkForce Pro WF-3823 printer should now be successfully installed and ready for use. If you encounter any issues during the installation process, refer to the printer's manual or contact Epson's customer support for assistance.
Installation and Uninstall Guide