Printersme.com – A printer can come in many types and sizes, from the usual inkjet printer to the laser printer, or inkjet sublimation printer. In this article, we will focus on the Inkjet sublimation printer, What is Sublimation Printer and how they work, what is the difference between them, and the advantages of the Sublimation printer, over many kinds of different printers.
For this article, we will also talk about one of the most ergonomics, and the best sublimation printer for its price, the Epson SureColor SC-F530. It is one of the inkjet dye sublimation printers that can handle huge workloads process and can handle various types of printing surfaces, from paper, mugs, T-shirts, and many more.
If you like our article here about what is Sublimation Printer and wanted to know more about trends in printers and review printers, then you have come to the right place. See here on our website to know more about it, and get our latest updates, and reviews.
What is Sublimation Printer
There are many ways printers could transfer images, or letters from the digital computer into printing surfaces such as paper, or fabrics. One popular way is through the dye sublimation technique. It is a digital technique that uses heat from its printer to transfer the image from a digital source (computer) into the intended surface or substrate.
This technology is also called digital sublimation, as it allows transferring the of digital images from a computer to the intended surface. Most of the time, dye sublimation technology is used in many textiles, and clothing industries, it is very versatile, as the dye sublimation printer can be used to print on many surfaces such as Mugs, ceramics, fabrics, textile, plastics, paper, and many more.
However, most of the time, a dye sublimation printer is used to decorate apparel, print signs, print banners, and many other items that can be used to sublime ink into its surface.
So that's it that is the answer on what is Sublimation Printer and its main use.
Epson SureColor SC-F530
The 24-inch Epson Surecolor SC-F530 is designed to meet the demand of your clients, and fulfill all of their demands within the limited schedule. It is designed to meet your creative demands, as well as fulfilling your client's wish, with speed, and precision dye sublimation printing.
It is designed to provide its user with easy access, ease of use, considerable ergonomics, and exceptional efficiency. The Epson SC-F530 encompasses easy convenient use for dye-sublimation printing, with the high-performance dye-sublimation printing technology that will suit your creative needs.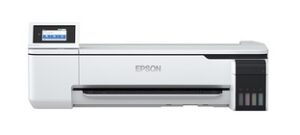 Advantages Review About SureColor SC-F530
If we take a look at the Epson SureColor SC-F530, the greatest advantage of this printer is its high-performance printer, with considerable ergonomics in its ink use. It can print on any sublimation surface with ease, printing on T-shirts, designing your apparel, creating your mugs, and many more, all of which can be handled with the Epson Surecolor SC-F530.
The Epson SureColor SC-F530's greatest strengths are:
It features the 24-inch wide dye-sublimation printer
It has a wide CISS ink tank, complete with its CYMK ink
High-performance technology of dye sublimation image transfer printer
It is very ideal for small-office, small-volume clothing industries, and custom merch branding.
It has very nice ink ergonomics.
Epson Ink Use
The Epson SureColor SC-F530 uses the standard capacity Epson ink, with the Epson quick dry ink, an Ultra-fine ink that produces a high-quality image, with vivid resolutions quality, and output that has considerable minimum dot gain. It provides the output that has quick-dry features and produces a high-resolution image quality.
One of the advantages of this printer is, that it has very nice ink ergonomics. Ergonomics means that the ink costs of maintenance and refilling ink are very affordable, so it is perfect for home use, and small-scale office and workshop use. Preferably, this printer is perfect for small-scale clothing and merchandise industries.
Device Compatibility
The Epson Surecolor SC-F530 is compatible with any iOS, Windows, or Linux operating system, with the Windows supporting windows XP, 7, 8, Vista, 10, and 11. It is compatible with any laptop or desktop.
Download Driver
Before you can use the Epson SureColor SC-F530, you would need to find, and download the driver for this printer. Here, you can download the driver on our website for free, without needing any payment or subscriptions.
The printer driver is compatible with iOS, Windows, and Linux operating systems, and for windows, it is also compatible with windows XP, 7, 8, Vista, 10, and 11. If you are using windows, you will need to know which version of the operating system are you, be its x32, or x64.
We have separate download driver links for both of the different x32 and x64 operating systems, and you can find them here online, all of them for free to download, without any additional payment or subscriptions.
So, that is it on the quick review of the Epson SureColor SC-F530, along with a quick explanation about what is Sublimation Printer and its uses, how they work, how they can transfer the digital image into the sublimation surfaces, and their best uses.
| | | |
| --- | --- | --- |
| Compatible Operating System | Size | Download |
| Windows | | |
| Windows 11, Windows 10 64-bit, Windows 8.1 64-bit, Windows 8 64-bit, Windows 7 64-bit, Windows XP 64-bit, Windows Vista 64-bit | 13.38 MB | |
| EdgePrint MAC Driver – Mac OS X – PowerPC, Mac OS X – Intel | 270 KB | Download |
Conclusion
Overall, the Epson SureColor SC-F530 is a solid option for the dye-sublimation printer, as it has many great advantages over its competitor, such as amazing sublimation printing performance, great printing capabilities, faster printing speed, can handle various sublimation surfaces with ease, and best of all very ergonomics, and suitable for small-scale business and clothing industries.
However, if you are looking for a more heavy-duty printer that could handle huge workloads, especially for office work, then there are far better options rather than this printer. Click on the link below to find out more about the best heavy-duty office printer.
That's it from us, on review about the Epson SureColor SC-F530, What is Sublimation Printer, and what is their use. Here, you can find the download driver link if you are looking to find the free driver download for the Epson SC-F530.