DOWNLOAD SOFTWARE PRINTER EPSON L5296 – Epson continues to explore the development of printer technology to date, to provide satisfaction to its customers. Epson's current development is towards an economical printer machine so that consumers don't incur large costs for processing documents, such as the newly released Epson Ecotank L5296 multifunction printer that can streamline the work of its users, in this one machine you can print documents, scan and copy documents , very efficient, right? You don't need to go to photocopy and scanner services to complete your work.
Wireless Printer and ADF Epson L5296
On this L5296 you can print documents wirelessly because this printer is equipped with integrated wifi technology. In addition, the Epson L5296 can print two-sided documents automatically with ADF technology which makes you feel cost-effective in printing documents. Fax is also integrated in this printer.
Durable Ink Technology
The Epson Ecotank L5296 is one of the printers that uses an integrated ink tank, in purchasing the L5296 you get 4 bottles of black, yellow, cyan and magenta ink with the ink code 003. For further use you are strongly advised to use original ink from Epson to maintain durability of your printer and print quality.
Epson L5296 Software Uses
The official software from Epson for L5296 is available on this page, you can download it for free and it's easy to download this page using a direct link without having to go to other advertising services. on this page there is already available software for windows and macos, even for windows 11 it is also available. that's a short review this time for the Epson L5296.
If you need help finding the nearest printer service, you can click the Printer Near Me button below.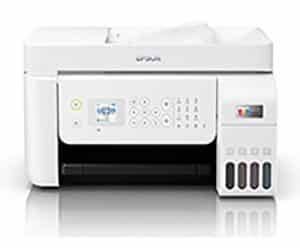 PRICE EPSON L5296

DIRECT LINK DOWNLOAD EPSON L5296

| | | |
| --- | --- | --- |
| Compatible Operating System | Size | Download |
| Windows | | |
| Windows x64, Windows Vista x64, Windows 7 x64, Windows 8 x64, Windows 8.1 x64, Windows 10 x64, Windows 11 x64 | 33.6 MB | |
| Windows XP, Windows Vista, Windows 7, Windows 8, Windows 8.1, Windows 10 | 28 MB | Download |
| Scanner – Windows 10 64-bit, Windows 8.1 64-bit, Windows 8 64-bit, Windows 7 64-bit, Windows XP 64-bit, Windows Vista 64-bit, Windows XP, Windows Vista, Windows 7, Windows 8, Windows 8.1, Windows 10, Windows 11 x64 | 61.63 MB | Download |
| Mac OS | | |
| Printer Driver – Mac OS X – PowerPC, Mac OS X – Intel | 53.5 MB | Download |
| Printer Driver – Mac OS X – PowerPC, Mac OS X – Intel | 26 | Download |
How to start using this printer
You can take the unit out of the printer case then peel off some of the adhesive attached to the L5296;
Open the ink bottle slowly then pour the ink according to the color into the ink tank;
Turn on the printer, wait about 15 minutes for the ink to rise into the printheads;
Plug the USB in the printer and then connect it to your Laptop;
Download the L5296 Driver Software according to the operating system you are using, the drivers are available at the bottom of this page.